5 oz of fresh pork tenderloin, skewered and barbecued to perfection; served on your choice of pita with tzatziki, tomatoes and onions.
Made from lamb and beef served on Grecian pita with tzatziki, tomatoes and onions
One pork souvlaki on a stick, one loukaniko (sausage) and gyro meat on a bed of fries served with tomatoes, onions, pita and tzatziki.
Lettuce, feta, tomatoes, onions, Kalamata olives and our signature Greek dressing.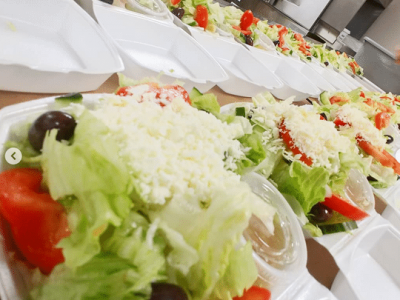 A rich, sweet pastry made of layers of filo filled with chopped nuts and sweetened and held together with syrup or honey.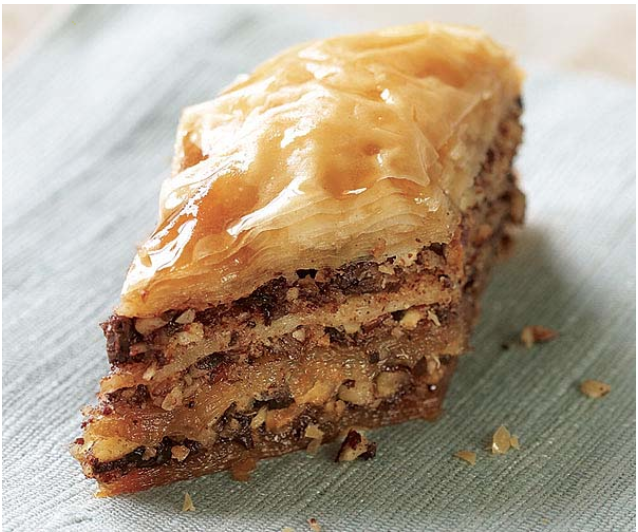 A moist and flavorful walnut cake that is flavored with cinnamon and bathed in sweet syrup.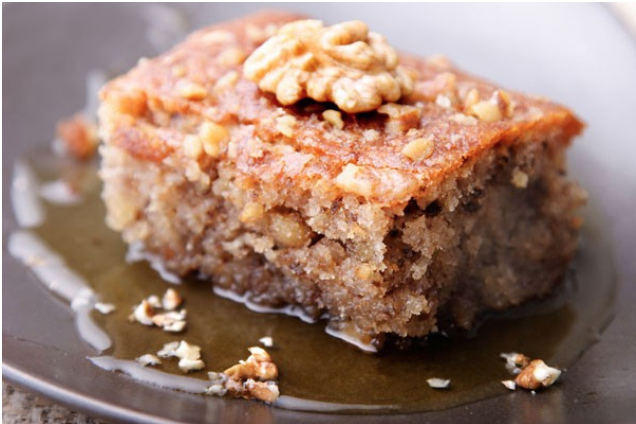 Wrapped and baked in phyllo pastry. Sold individually.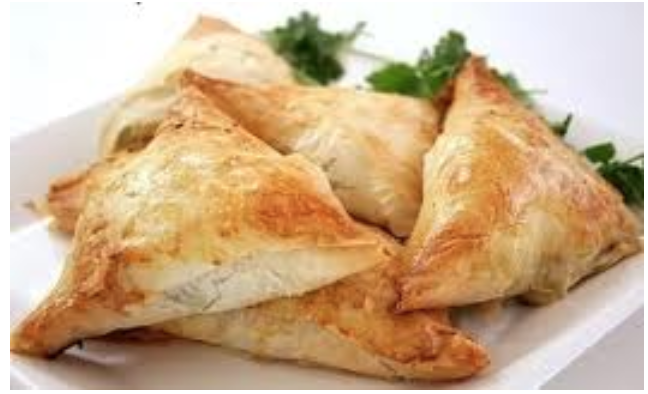 Grilled Kefalograviera cheese served up on bread, flamed with brandy (OPA!) and topped with a splash of lemon – mouth-watering delicious!
A divine combination of creamy custard and flaky phyllo dough that is baked to golden perfection then drenched with a citrus infused syrup.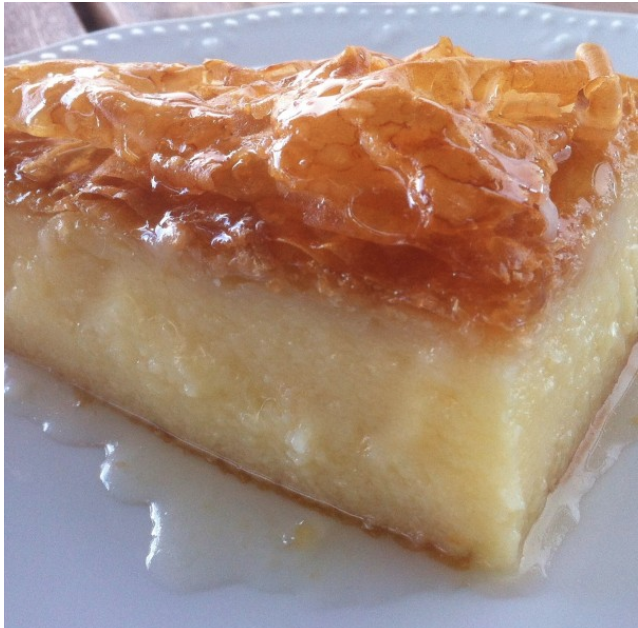 Pastry made from deep fried dough soaked in a honey syrup and dusted in cinnamon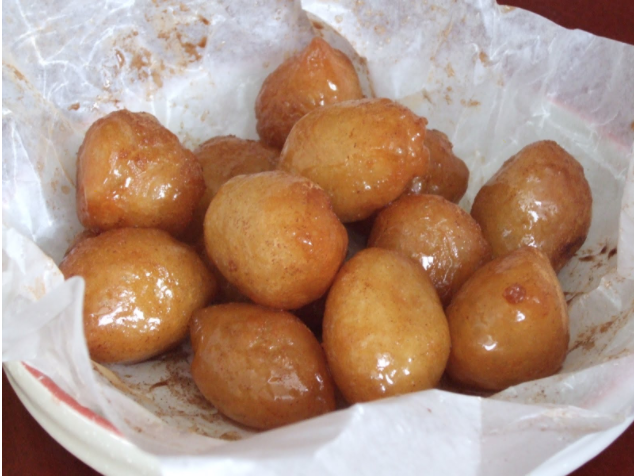 Enjoy our selection of Pelee Island Winery products.
Pepsi, Diet Pepsi, Ginger–ale, 7–Up, Orange Crush, Iced Tea, Lemonade
Canadian Club Whiskey, Smirnoff Vodka, Bacardi White Rum, Beefeater Gin
Special Offerings: Ouzo: an anise–flavoured aperitif & Metaxa: Greek Brandy
Smirnoff Ice, Mike's Hard Lemonade, Mike's Hard Cranberry and Bacardi Orange Smoothie Breezer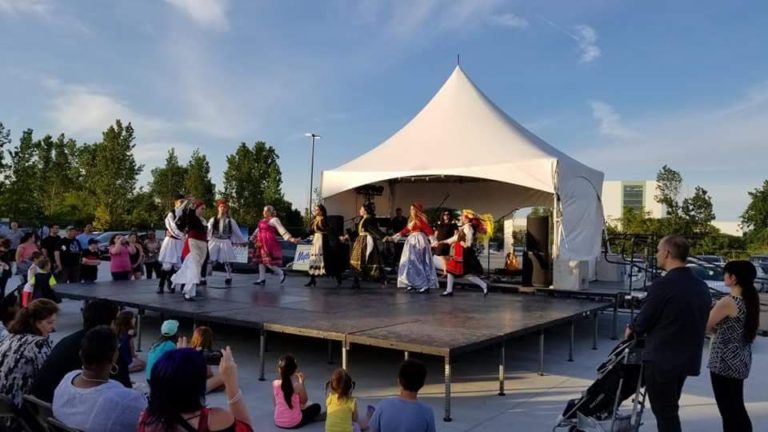 Both Weekends Performing at festivals and event celebrations in Canada and the U.S., Mythos Band provides the finest in live Greek music – and they are based right here in Windsor, Ontario! Peter Theos (Keyboard/Vocals); Giannis Papadontas (Guitar/ Vocals); Chris Nomikos (Bouzouki); Chris Stathis (Drums).
This schedule is subject to change.
Greek Community's Terpsichorean Dance Group
Derived from the "Terspichore", the Greek goddess of dance, our community's dance group was established in 1960, and is currently under the directorship of Alexandra Spanos. The costumes and dances represent the varied traditions across the regions of Greece, including Makedonia, Epirus, Thessaly, Peloponnese, and the Aegean and Ionian islands. Every dance has a story – and we look forward to sharing these with you!
The Greek Village celebrates the spirit of multiculturalism and warmly welcomes these special guest performers!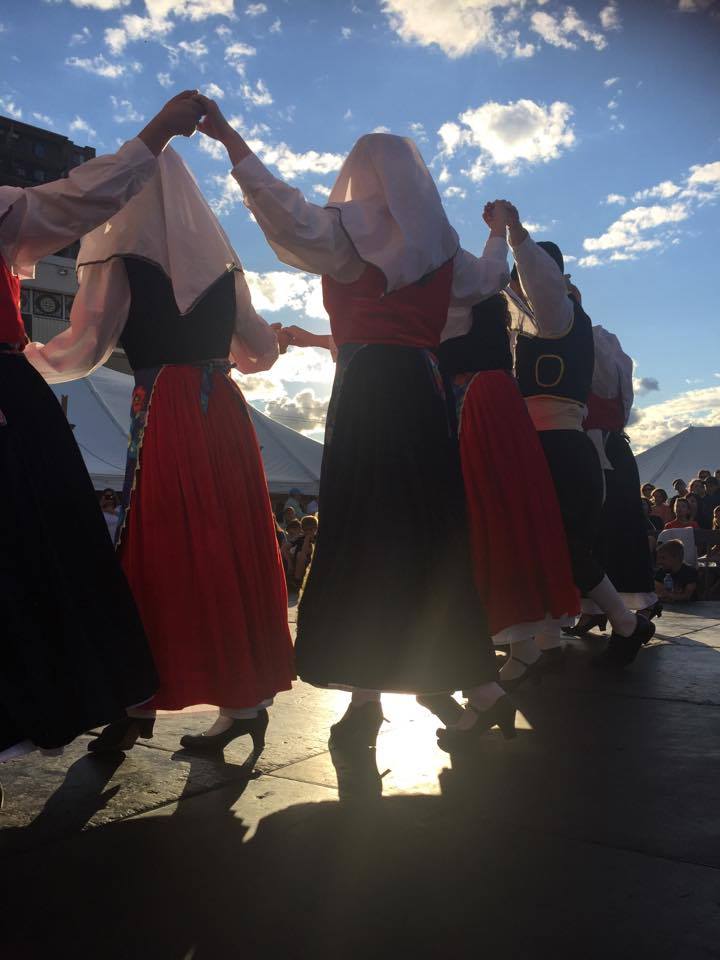 Visit our displays:
Fridays: 5 – 9 pm
Saturdays: 5 – 10 pm
Sundays: 4 – 9 pm
Fridays: 5 – 9 pm
Saturdays: 5 – 10 pm
Sundays: 4 – 9 pm